Last Wednesday in the Manitoba Hydro building, Winnipeg chefs stirred up some friendly competition for a cause. The Child Nutrition Council of Manitoba (CNCM) held their annual Stone Soup fundraiser to support breakfast and snack programs in Winnipeg schools.
Viola Prowse, executive director of the CNCM, said that the purpose of the organization is to contribute to students' success.
"At least a third of elementary students aren't having any breakfast before they go to school, about two-thirds of high school students aren't, and, besides that, there's a very small percentage of students that are getting the fruits and vegetables they need throughout the day," she said.
Prowse spoke to the far-reaching impact of the program in that children are receiving nutrition education along with a meal. This education manifests itself in the lunches some children bring to school, she said.
Breakfast and snack programs allow for a feeling of community and promote a positive school culture, since teachers often take time to eat with the students.
The Stone Soup fundraiser is based on a folktale that provides a lesson in co-operation and togetherness. In the tale, the community comes together to produce ingredients for a nourishing soup to be enjoyed by all.
Eleven Winnipeg restaurants stayed true to the tale, serving side-by-side to support children in need. This is not to say there was not a little friendly competition for the silver ladle – a prize awarded for the best soup in the building based on patrons' votes.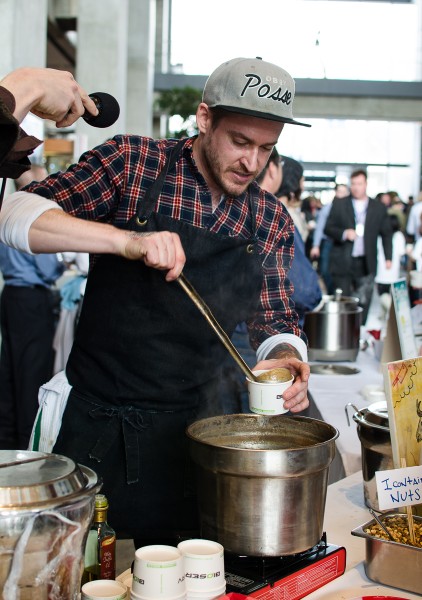 Deseo Bistro's head chef Scott Bagshaw joked about a rivalry with executive chef Ben Kramer from Diversity Foods, who responded, "Our rival? Not even close. I think he meant mentor."
Bagshaw created a vegan and gluten-free wild mushroom bisque – with black trumpet, cremini, oyster, and shitake mushrooms, soybeans, and truffle oil.
Kramer served an inventive "Manitoba Pho" with hemp seeds, bean sprouts, fresh herbs, and local elk – or, as he called it, "happy elk."
Neechi Commons' Talia Syrie served "Three Sisters Soup," made with butternut squash, corn, and beans. The soup was smooth and warming with just a hint of spice.
Terrace in the Park won the silver ladle for a second year in a row with their seafood chowder, a soup made with crab, corn, Manitoba pickerel, scallops, and shrimp, and garnished with roasted garlic and tarragon oil.
While a diverse group of Winnipeggers enjoyed the sampling of soups—so much so that some chefs ran out—a high school vocal jazz group provided entertainment.
Prowse said that, though the CNCM is trying its best to provide for all children in need, for logistical and monetary reasons, some schools are not able to host programs where the need exists.
Securing money for the food is important, but schools also need to have space available to cook the food and wash dishes. Since schools must raise funds for 75 per cent of the costs, the individuals who believe in and work for the cause are essential, said Prowse.
"We only fund at about—in a real good year—25 per cent of the cost of the program. The schools still have to do a lot of work, and that tells you how significant those programs are."