What do you get when you combine soothing music, charming hosts, stimulating conversation, and paintbrushes? Asked this question in the 1920s, one might have answered Gertrude Stein's salon, which, consequently, was an inspiration for Art Tuesdays, says Olivia MacKinnon (no relation), host and co-ordinator of the weekly event.
You can feel the warm atmosphere upon walking in the door. You're greeted by smiling faces, a tantalizing smell of warm chocolate banana bread, and a table ready and waiting to let your creative juices flow.
"There isn't an imposed structure, at least not yet. But people come in and they cook, and people do art, people will bring instruments or play instruments that are here [ . . . ] everyone kind of has their own creative approach," says MacKinnon.
When Art Tuesdays began a year ago, MacKinnon planned for a more structured event, but found that attendees felt at ease with a more casual approach.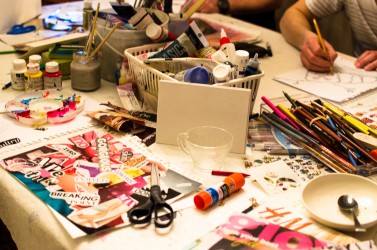 "People are kind of inclined to just sit and hang out and engage. In a way, I want it to be something that people just sort of need to do, not feel imposed on. People can drop by when they want and when they can," she says.
Art Tuesdays sees some regulars, as well as plenty of new faces. When MacKinnon meets someone she thinks would be interested in the gathering, she invites them along. Art Tuesdays is an opportunity to stimulate conversation with people of all ages and walks of life, she says.
"I have amazing conversations with five-year-olds and 70-year-olds. I think that we can learn something from anyone, and everyone carries their own niche, their own creative thing. And [Art Tuesdays] is an opportunity to share that."
Pierre LaFreniere, an Art Tuesdays regular, enjoys the ever-evolving nature of the gathering.
"All and all I like the people, the relaxed atmosphere, and that it's not just about painting and drawing, as in it takes into account all kinds of arts. Anything can happen at Art Tuesdays," he says.
When singer Daniel Champagne played at a special Art Tuesdays date, there were about 30 guests. MacKinnon remembers this as one of many memorable moments the event has held.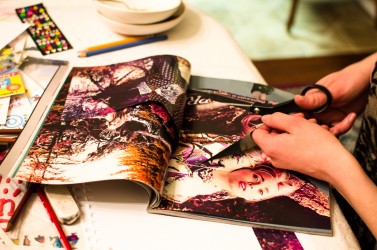 In the future, MacKinnon would like to continue featuring artists, and introducing a little more structure – without imposing on anyone. She wants to find an easygoing balance to "cultivate more discussion, like group conversation – to begin unifying ideas [and] creating even more of a community where people talk about political issues, or artists, or local artists."
Art Tuesdays is a place for connection, artistic empowerment, and escaping from daily stressors.
"It allows you to be conscious, and it allows you to have a space where you take a break from everything else that is happening in your week, and just relax and introspect or have a conversation, have a genuine moment where you don't have to feel stressed out by your usual daily stresses," says MacKinnon.
To find out about more Art Tuesdays events, like their page on Facebook.