Close to two decades have passed since the last time I went to Lower Fort Garry. I definitely remember having an awkward mushroom cut and sitting on one of those sticky grey seats on a yellow school bus on the way there. This time I drove myself—along with my buddy Sam who serenaded me with Patsy Cline the entire way—and instead of going on a tour with a costumed interpreter, we were there to look for ghosts.
The Hudson's Bay Company built the fort—located just over 30 km outside of Winnipeg—in 1830 in response to an 1826 flood that destroyed Fort Garry (now Winnipeg). The finished fort included a fur loft, Big House (where the governor and other high-ranking officials lived), warehouses, a store, and a men's house.
It served as post to a small amount of fur trading, and was primarily used as a supply depot for the Red River Settlement and nearby Cree, Anishinaabe, Métis, and European residents. Over the years it has had many uses, including being a correctional facility, a hospital for people living with mental illness, and a golf course/motor country club.
More recently, the fort has offered ghost tours in the fall months, but this year they tried something new, something they're calling Fright at the Fort.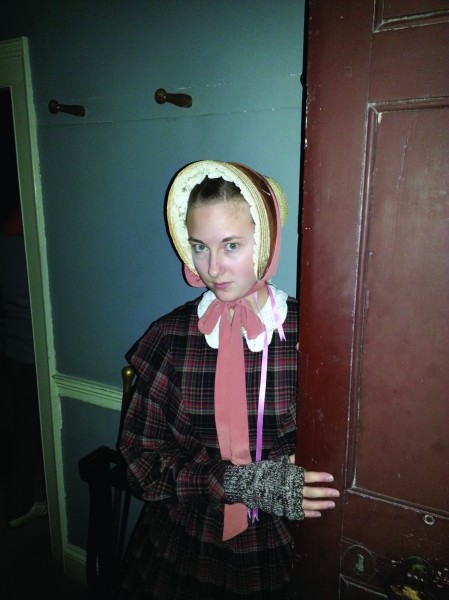 Sam and I were greeted by some very friendly staff in the visitor centre and handed spooky maps. We walked down a dark path and came to a bonfire where we caught some stories about Wendigos—demon creatures of Algonquin folklore—and were promptly scared by a dude in the bushes wearing a black cloak. We hustled over to the fort entrance just to run into some other costumed actors who screamed and ran into the darkness.
"Traditionally, the programs have been more family-friendly, but this year, Parks Canada is trying to attract more young adults to Lower Fort Garry. To do that, we have revamped the program and increased the 'scary factor' to appeal to a more grown-up audience," says David Lavallee, public relations and communications officer of Parks Canada – Manitoba Field Unit.
"The majority of the staff are Parks Canada interpreters [and we] also have some additional volunteers added to the mix and support staff assisting. The summer interpreters are trained to bring history to life by playing figures from Lower Fort Garry's past, all while in historic costume. [ . . . ] For this program, they are diverging from the norm to bring some little-known facts and fiction to visitors."
We wandered through the haunted fur warehouse, visited the general store where ghosts threw things off the shelves onto the floor, and attended a show in the prison about a murdering adulterer. I was glad to have Sam with me – not because I was scared, but because he was way better at being a participating audience member than I.
After warming up in the tavern over a Fort Garry Pale Ale and root beer, we checked out the best part of the fort: the haunted Big House. We wandered through rooms filled with décor hinting at cannibalism, talked to a creepy man butchering humans in the basement, and ended up in a drawing room with a man drawing pictures in blood threatening us with a knife. At one point, Sam claimed he saw a woman walk by a doorway wearing a white dress, but I didn't see anything.
"There are many stories about ghostly sightings and experiences at Lower Fort Garry National Historic Site, many of which were experienced by both visitors and staff. For example, it is said that a lady in a white dress has been seen fleetingly in the Big House," says Lavallee. "Other sightings and strange noises have been seen and heard in the fur loft, and in the warehouse building, which at one point in its history served as a prison."
Also, there was a cute cat named Wiggles that wanders around the fort.