On March 23, 2020, the University of Manitoba officially switched to remote learning in the midst of the COVID-19 pandemic. Now, a year later, the Manitoban has conducted a survey of U of M students to gauge how they feel about the experience.
Of the survey's 469 respondents from faculties across the university, 89.7 per cent were undergraduate students, with graduate students pursuing their master's or PhD making up 8.8 per cent and 1.5 per cent respectively. Roughly a third of the respondents were in the first year of their degree, while 29.1 per cent were second-year students, 21.8 per cent were third-year students, 9.8 per cent were fourth-year students and 6 per cent were in their fifth or higher year.
When asked what primary device(s) they used to attend classes and complete assignments or exams, 98.9 per cent of respondents said they use a computer. In addition, 26.2 per cent of respondents use a mobile device and 21.3 per cent use a tablet. The vast majority — 91.7 per cent — said they do not have to share their device with anyone else.
Access granted — maybe
Overall, students reported generally favourable learning conditions. The majority said they have a good environment to attend class or study, with 62.5 per cent choosing a positive response, and 70.9 per cent agreed to some extent that their internet connection was fine for remote learning.
Most students also felt they had adequate access to textbooks and course materials, with 68.7 per cent agreeing to some extent. However, some students expressed frustration with instructor expectations not reflecting pandemic reality.
"Some of us can't leave our homes to order [or] purchase course materials, and it would be so much more efficient and effective if professors could provide what's needed to know for assignments [and] exams rather than quiz us on stuff covered in the textbook when some of us don't have access to the textbook," said one first-year faculty of science undergraduate.
A fourth-year faculty of agricultural and food sciences undergraduate agreed, pointing out students who cannot travel to Winnipeg are at a disadvantage due to high shipping costs for unique items from the campus bookstore.
"I paid [three times] the shipping as I did for the actual lab manual I needed," they said.
"Not all of us are able to live in the city since the pandemic and we need things shipped. This is not the place to price gouge."
Library resources were also a mild concern. Students were fairly evenly split on their opinions of access to library resources, with 25.8 per cent somewhat positive about access, 24.3 per cent neutral and 23.9 per cent somewhat negative.
That said, students in more specialized fields found themselves disproportionately affected by library restrictions, with faculty of architecture students particularly vocal about it.
"Maintaining access to the libraries in terms of pickup of physical books is absolutely essential," said a fifth/higher year faculty of architecture master's student.
"Much knowledge is simply unavailable online."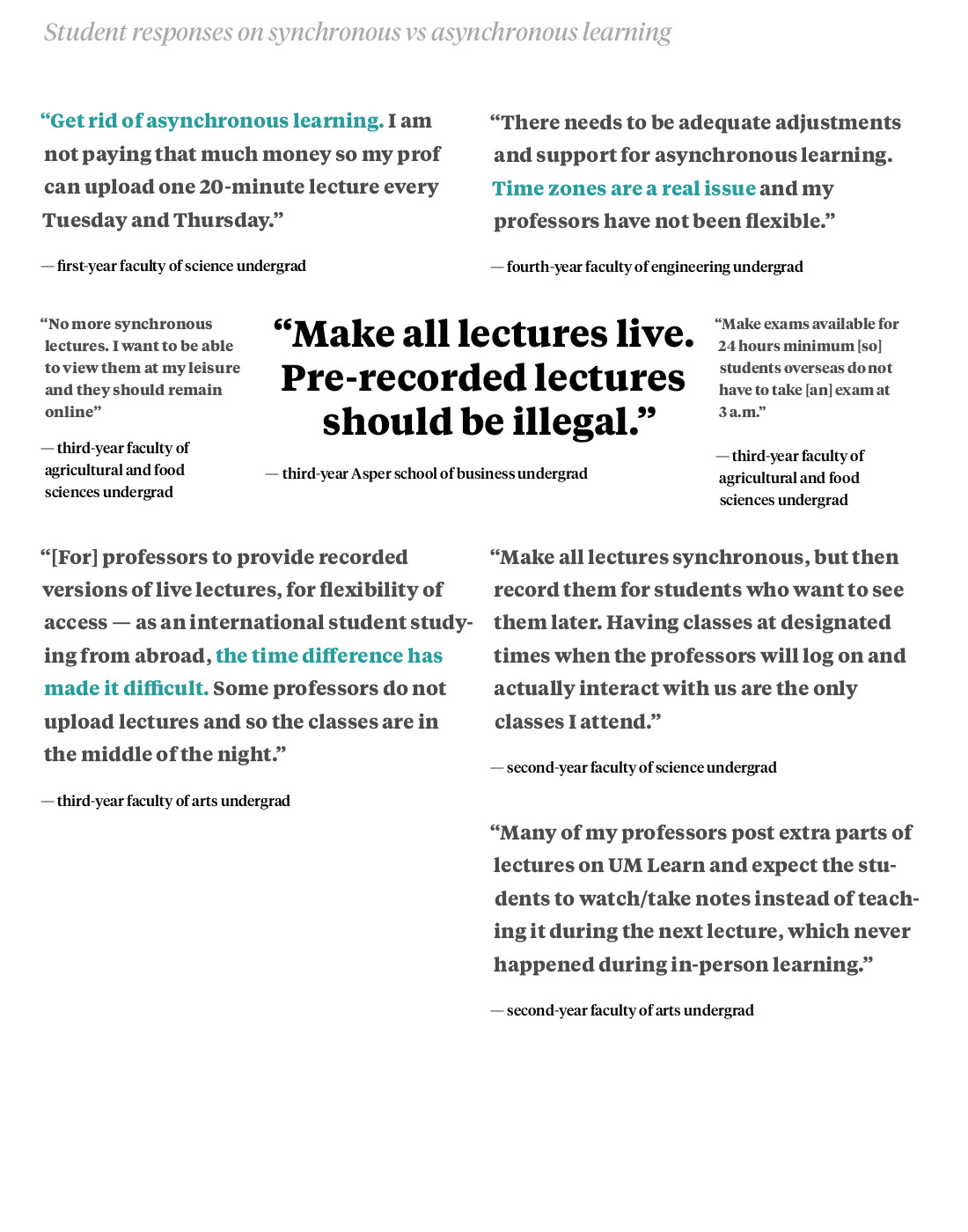 Error: connection not found
Students overwhelmingly reported feeling isolated from their peers, with 72.6 per cent of respondents saying they felt much less connected with other students than last year. Only 9.1 per cent reported any degree of increased connection, and even those students had caveats.
"I only said I feel more connected as students are mobilizing and coming together on apps such as Telegram," a second-year faculty of arts undergraduate said.
"A lot of profs are frustrated with students for creating Telegrams to help us stay connected with each other. If that is the case, they should urge the university to get a program which is as user-friendly for students in a way that students like — with messages we can easily access and in one place with a chronological order.
"The UM Learn thing is okay for computers and teachers that make us use it, but not for ease of communication with each other, and email is not helpful in the same capacity."
First-year undergraduate students in particular have struggled with the remote learning format. Of first-year undergraduate respondents, 82.2 per cent reported feeling much less connected to other students. Several requested that professors create opportunities for classmates to interact with each other, like breakout rooms.
Students were less adamant about how connected they felt with their instructors. The bulk of respondents reported their professors were a little less accessible (31.7 per cent) or about the same (36.5 per cent) as last year.
However, many wrote that they would appreciate more empathy from their professors. Lack of flexibility or trust around internet connectivity issues was a major complaint, along with not enough consideration for students in other time zones.
Some students also asked for more consistent use of UM Learn within their faculties, saying that while professors may think they have found a more convenient platform to share information, it only makes life more difficult for students in multiple classes.
"[The] University of Manitoba has done a fine job, but professors — from my experience — need to learn how to use one platform," wrote a third-year faculty of agricultural and food sciences undergrad.
"I have some classes that use four to five different interfaces and it is so, so, so confusing trying to find and remember where things are. They need to use one portal, because when five classes use different interfaces each, I have to manoeuvre between 10 different webpages and apps at minimum for content."
"I feel like I can't breathe"
The most consistent themes throughout survey responses were complaints of exhaustion, overload and worsening mental health. Of the 85.6 per cent of students who said their workload had increased over the past year, 55 per cent said it had increased a lot, and a combined total of less than 5 per cent of respondents said their workload had decreased in any capacity.
When asked if they felt like they never stop working, an astounding 89.9 per cent of respondents agreed to some extent. In addition, 72.2 per cent of students strongly agreed that they were more tired than before the pandemic and found it more difficult to concentrate.
"It has been so challenging this past year and it seems like profs don't seem to think that we're stressed [or] always working," said a fourth-year faculty of agricultural and food sciences undergraduate.
"As a student, there's sometimes days when I'm on Zoom more than I sleep […] Yet I am paying for university in the same fashion I would if I were on campus. To be honest, it's incredibly difficult, and it hasn't gotten easier with time."
Across virtually every faculty that responded, students asked for very similar workload changes — instead of multiple smaller assignments worth less, due on a weekly basis, they would consistently rather have fewer small assignments worth a higher percentage of the final grade, with due dates spread across the semester.
Students said small weekly assignments pile up very quickly between classes, and when combined with the amount of screen time and eye fatigue students are already facing from attending class, their coursework has a markedly negative effect on their health.
"It is difficult to focus on assignments worth [more than 25 per cent] when instructors add on weekly readings [and] assignments that are not graded or receive minor grades, but take up hours of time," a second-year faculty of architecture master's student said.
But one group has faced more intense pressure than any other subsection of the university — nursing students.
"Our students have had the added stress of working on units that have been subject to [COVID-19] outbreaks, which has interrupted their clinical learning, made them miss precious clinical hours needed to finish our degree and the constant worry that we might be putting the people we live with and love at risk," said a fourth-year college of nursing undergraduate.
"Many of us have had to make hard choices about whether we should continue to pursue our degree or put it on hold until things settle […] Working through difficult situations isn't a new concept for nursing students, but doing it in the midst of a pandemic and all the complexities that come with that learning environment is."
All in this together?
When asked whether they felt the university had provided them with adequate emotional/mental health support, the largest group — 41.3 per cent of students — responded neutrally. However, the second-largest group at 24.7 per cent picked the most negative possible option, and several students expressed their disappointment in the university's approach.
"Can the university please stop advertising mental health services to students, then turning around and making them hard to access or cost money after a few sessions?" asked one first-year University 1 student.
"As a student, I already am paying large sums of money to this institution. Seeing as how the professors are being paid terribly and classes are online, I'm wondering where all this extra money is going. Maybe invest into the students more, because since attending this school I feel like just a number."
Some students expressed disappointment that mental health outreach seems to consist of peppy emails and half a page in course syllabi, but little else.
"I feel like some people are thriving in this environment and others are having a very difficult time," said a second-year faculty of architecture master's student.
"This survey is the first time I've actually been asked how I am doing and how I think the year is going, which is pretty disappointing. I feel like the virtual 'me' that professors and advisors see is not representative of the internal struggles and stresses I've been experiencing."
Other respondents did not directly criticize the university's existing support services, but said other policies have actively worsened their mental health. A particularly common offender was Respondus LockDown browser, used to prevent cheating during quizzes and exams.
"The [Respondus LockDown browser] gives me such anxiety and I find I don't have time to finish my exams because of it," said a fourth-year Asper school of business undergraduate.
"I live with five other people and it is loud, and I have to share my study space so there's nowhere private to go, which flags you on the software. I've had to rent hotel rooms just to write my exams because of it."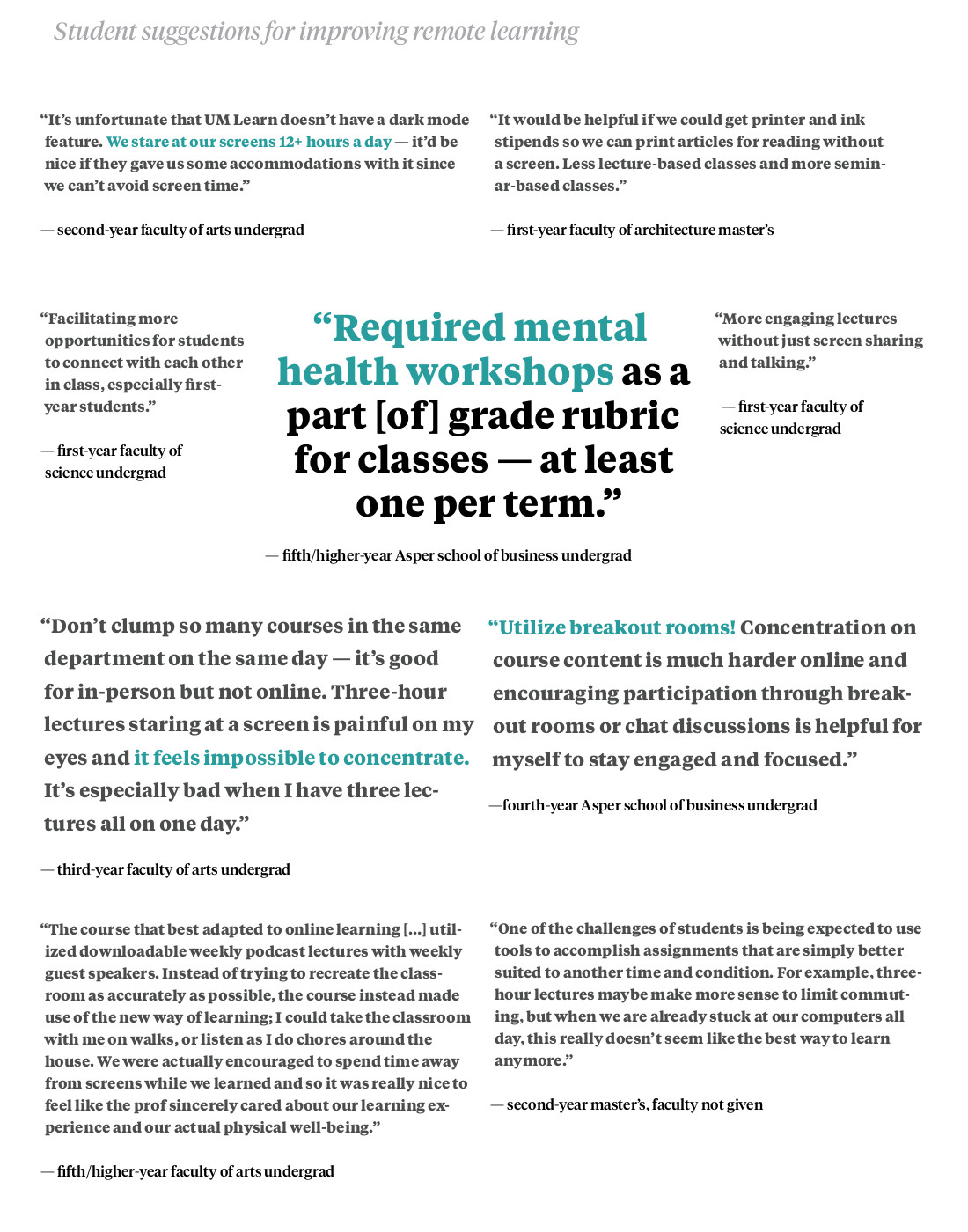 Zoom labs a failed experiment
Students also called for reworking the current lab format, saying that remote labs often defeat the purpose. A combined 54.3 per cent of respondents expressed some degree of dissatisfaction with lab, workshop or tutorial sections in their courses.
"Online labs are not only horrible, but they are also pointless," a first-year faculty of science undergraduate said.
"What am I going to learn by filling in a worksheet based off of class material? That is not a lab, that is just course work. A lab is intended to be a hands-on experience to teach you valuable skills that you will use throughout your career. The lab co-ordinators are doing [a] decent job of providing the material online, sure, but it is useless. Labs the way they are being done now serve no purpose and do not enhance my learning whatsoever.
"On top of that, we still need to pay our ridiculously expensive lab fee. Why? We aren't using any equipment or even showing up on campus."
A first-year faculty of arts undergraduate agreed, specifying that while their faculty of arts classes were "great," their science courses with labs had been "very unorganized and sometimes very rushed."
This frustration extended to other faculties as well.
"I feel like I will be very behind in skill next year as many critical lab skills were supposed to be taught in my courses this year," a third-year faculty of agricultural and food sciences undergraduate said.
"I am very concerned about this, and hope professors will adjust the lab curriculum and account for this when we go back."
Every cloud has a silver lining
Despite everything, respondents also found positive aspects to remote learning life.
"I really like the idea of remote learning [in] that you can always or mostly go back to the things that you might have missed during the lecture," said one second-year faculty of science master's student.
"Plus, professors [and] instructors are much more accessible than before."
A number of respondents said their professors have done a great job of adapting to online classes by coming up with creative ways to involve students and present information, with one — English, theatre, film and media associate professor Jonah Corne — being praised by name.
Other students said the rise of open-book tests and take-home exams has been a welcome change, and they hope instructors will continue to allow such options as the university gradually returns to in-person learning.
"I think more remote learning options should be made available in the post-pandemic era so that all students have the ability to do well in their courses," a third-year faculty of architecture undergraduate added.
With the U of M officially adopting a blended in-person and remote learning approach for the fall 2021 semester, students will have more opportunities to be on campus, interact with classmates and professors, access lab space and technology currently unavailable and generally take the first steps toward regaining typical university life.
In the meantime, many students are hoping for improvements in the U of M's implementation of remote learning.