When our ever-present snow cover starts being transformed into impressive works of art, it's a sure sign that it's almost time for Festival du Voyageur.
You may have noticed these snow sculptures dotting the city—perhaps passing by the Legislative Building, the Norwood Bridge, or at River and Osborne—over the last month. This "city-wide outdoor gallery" brings the artistic spirit of Festival to the rest of the city, and is but a taste of what Voyageur Park will hold.
"Many of the embellishment pieces you see around the city now are made by various sculptors that honed their skills in the local competitions," says Gary Tessier, the organizer of both an international snow sculpting symposium and the local competition held through Festival.
"Today's raison-d'être for the local competition is to provide opportunities for individuals to discover the joys of carving/sculpting (whether representational form or abstraction) in a medium that is around six months of the year."
Tessier discovered snow sculpting in the early 1970s, when as a young boy, he entered a similar local competition in Northern Quebec. He's been sculpting larger works for over 30 years now, and credits Réal Bérard as a valuable mentor.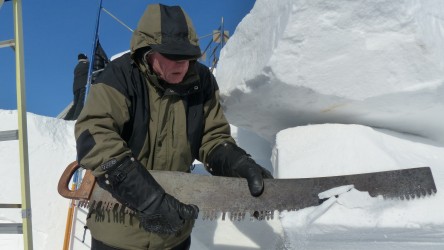 "Much of what you see today was inspired by a humble but very creative and talented artist, Monsieur Réal Bérard. Réal carved seriously until well into his 70s – now he volunteers with our International Symposium assisting teams and tackles the occasional project out of town. I was very privileged to work with him for many years and learned a tremendous amount about the process."
The process involves starting with a block of snow prepared by the festival, which are then carved by tools made and designed by the carvers themselves. This "subtractive" process, used by the festival for the last 25 years, replaced a previous "additive" process that involved covering skeleton-like structures with slushy ice, snow, and coloured powder. As colourful sculptures attracted more sun and wind, they had less longevity.
Today's sculptors have done away with water and colour, and work with snow only; Tessier can attest to the allure of the medium for both its accessibility and temporality.
"There is no other medium around that allows an artist or someone that wants to just play in the snow to create a work of art in such a large format in so little time – artists that try it become hooked fairly quickly," says Tessier.
Since last Friday, eight groups of local snow artists have been carving away on their 8-by-8-by-8 foot blocks of snow, and will have their results judged on Feb. 13. This year's group is a mix of veterans and first-timers.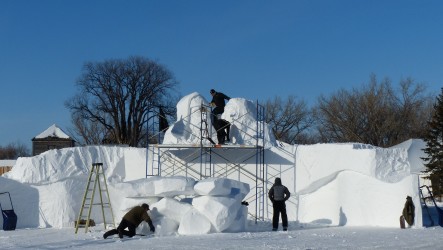 "We have folks coming from out of town especially for this, some that are teaching or mentoring other individuals in this art form, families and every age imaginable," Tessier reports.
The frozen fruits of their labours will be on display at Voyageur Park throughout the festival, and Tessier hopes that they will inspire others to join in and discover the joy of snow sculpture. "We are looking for new, younger talents to take over the process somewhat and bring new, fresh ideas and energy to the art."